Community data is a numeric vector containing abundances of species (the number of individual of each species) or their probabilities (the proportion of individuals of each species, summing to 1).
Example data is provided in the dataset paracou618. Let's get the abundances of tree species in the 1-ha tropical forest plot #18 from Paracou forest station in French Guiana:
The data in Paracou618.MC is a MetaCommunity, to be discovered later. N18 is a vector containing the abundances of 425 tree species, among them some zero values. This is the most simple and common format to provide data to estimate diversity. It can be used directly by the functions presented here, but it may be declared explicitely as an abundance vector to plot it, and possibly fit a well-known, e.g. log-normal (Preston 1948), distribution of species abundance (the red curve):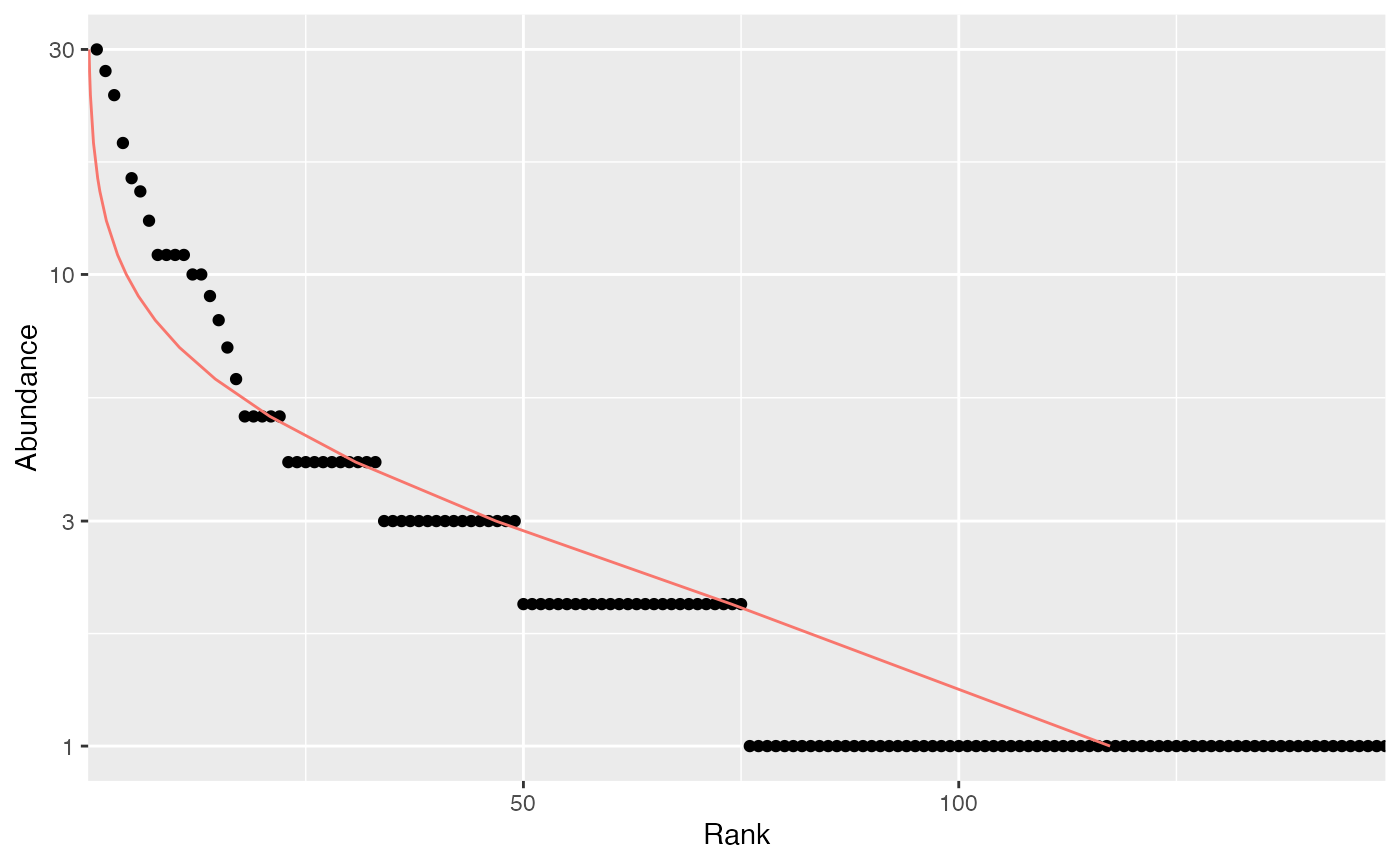 Abundance vectors can also be converted to probability vectors, summing to 1:
The rCommunity function allows drawing random communities: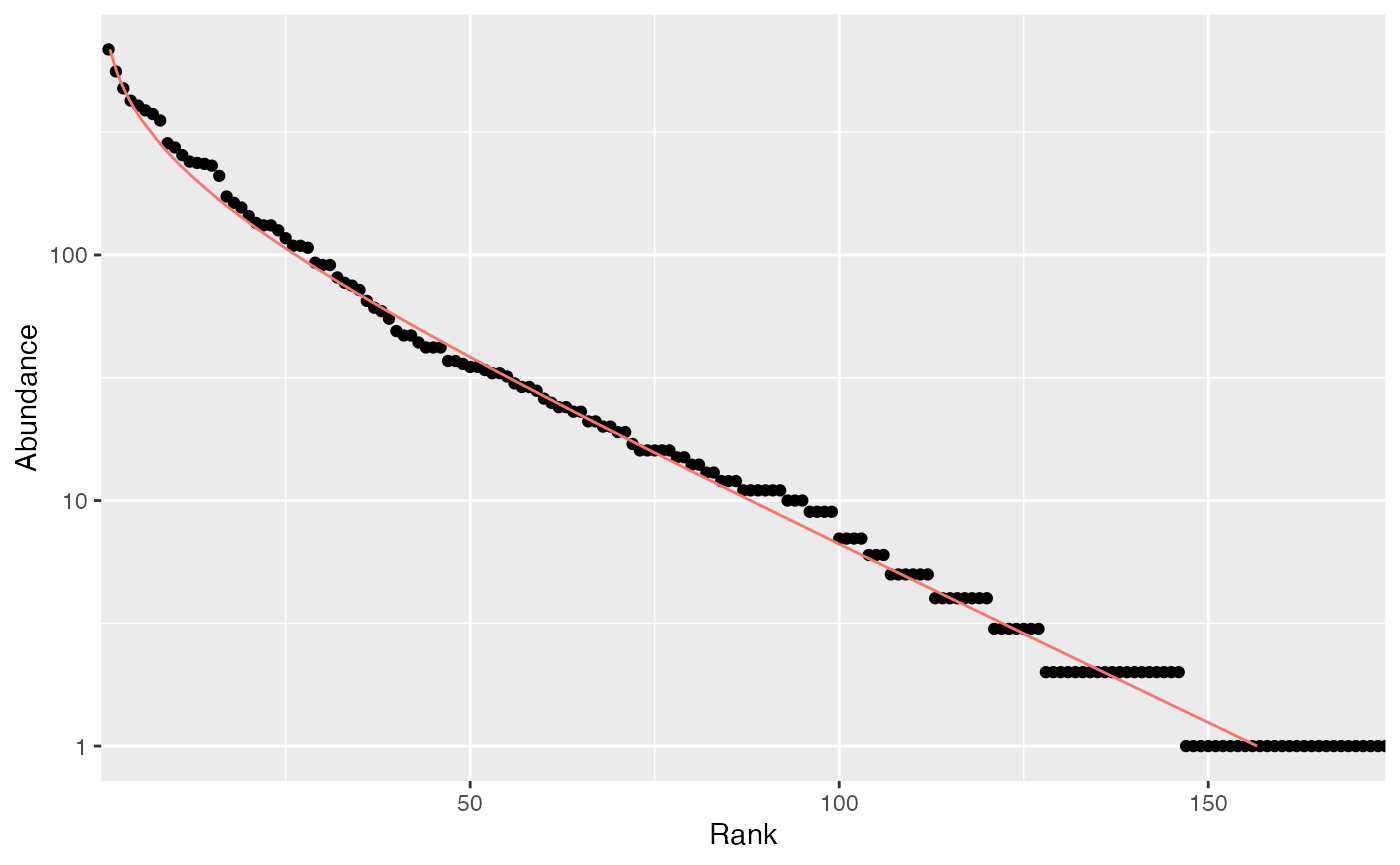 The Whittaker plot of a random log-series (Fisher, Corbet, and Williams 1943) distribution of 10000 individuals simulated with parameter \(\alpha=30\) is produced.
Diversity estimation
The classical indices of diversity are richness (the number of species), Shannon's and Simpson's entropies:
## None 




##  149
##     None 




## 4.421358
##      None 




## 0.9794563
When applied to a probability vector (created with as.ProbaVector or a numeric vector summing to 1), no estimation-bias correction is applied: this means that indices are just calculated by applying their definition function to the probabilities (that is the plugin estimator).
When abundances are available (a numeric vector of integer values or an object created by as.ProbaVector), several estimators are available (Marcon 2015) to address unobserved species and the non-linearity of the indices:
## Jackknife 3 




##         309
##  UnveilJ 




## 4.772981
##     Lande 




## 0.9814969
The best available estimator is chosen by default: its name is returned.
Those indices are special cases of the Tsallis entropy (1988) or order \(q\) (respectively \(q=0,1,2\) for richness, Shannon, Simpson):
##  UnveilJ 




## 4.772981
Entropy should be converted to its effective number of species, i.e. the number of species with equal probabilities that would yield the observed entropy, called Hill (1973) numbers or simply diversity (Jost 2006).
##  UnveilJ 




## 118.2713
Diversity is the deformed exponential of order \(q\) of entropy, and entropy is the deformed logarithm of of order \(q\) of diversity:
##  UnveilJ 




## 53.97842
##   UnveilJ 




## 0.9814741
##   UnveilJ 




## 0.9814741
##  UnveilJ 




## 53.97842
Diversity can be plotted against its order to provide a diversity profile. Order 0 corresponds to richness, 1 to Shannon's and 2 to Simpson's diversities: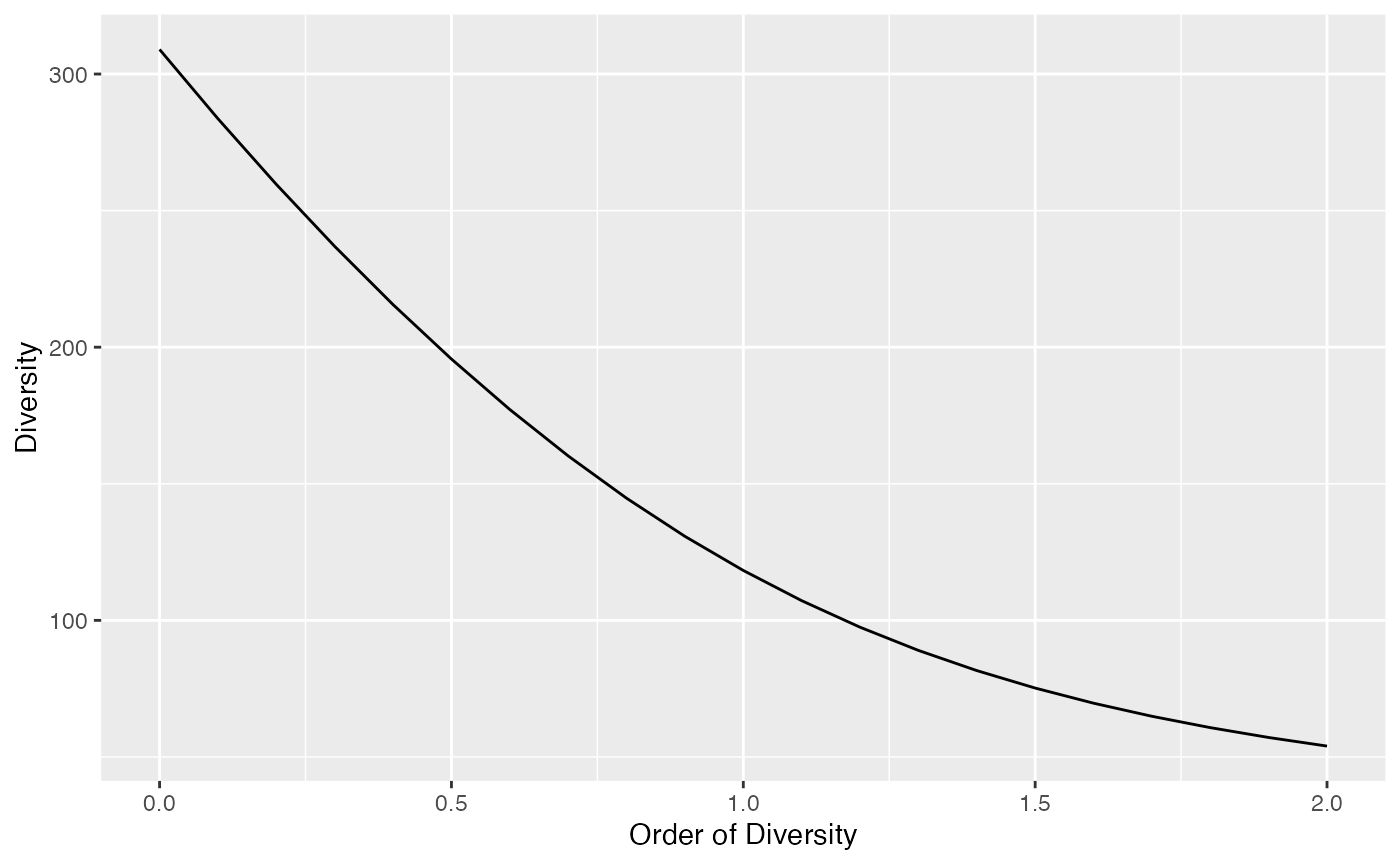 If an ultrametric dendrogram describing species' phylogeny (here, a mere taxonomy with family, genus and species) is available, phylogenetic entropy and diversity (Marcon and Hérault 2015) can be calculated:
## alpha or gamma phylogenetic or functional diversity of order 1 of distribution 




## Abd18




##  with correction: Best




## Phylogenetic or functional diversity was calculated according to the tree 




## Paracou618.Taxonomy 




## 




## Diversity is normalized




## 




## Diversity equals: 53.73643
With a Euclidian distance matrix between species, similarity-based diversity (Leinster and Cobbold 2012; Marcon, Zhang, and Hérault 2014) is available:
##     Best 




## 1.477898
Profiles of phylogenetic diversity and similarity-based diversity are obtained the same way. PhyloDiversity is an object with a lot of information so an intermediate function is necessary to extract its $Total component: